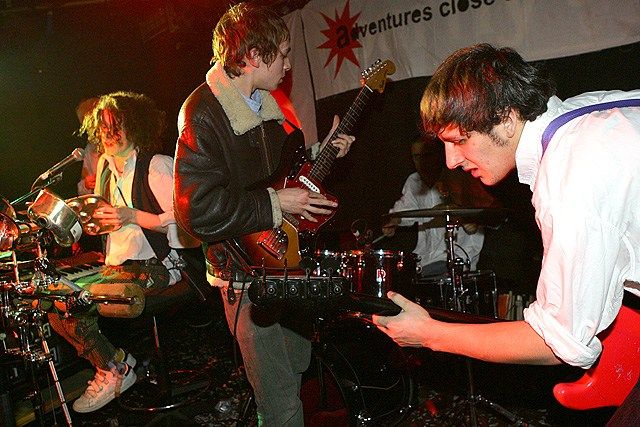 The Mystery Jets - You Can't Fool Me Dennis.mp3
The Mystery Jets, The Engine Room, Brighton, Thursday 8th Sept
We're going underground
One hundred leagues under the sea
We're back in the vaults
It's one hundred degrees
This is fug in hell
This is melting walls where chaos is king
No sussex squares tonight
With subterranean sauna sic blues
Talking heads but no chattering classes
We're beyond the fringe
Pots and pans and the kitchen sink
Crash and bang and ring
Wide eyed and open mouthed
We're caught in the jet stream
The cylinders are clicking
It's zoo time in this nocturnal house
The punfortunate purple prose of cairo
Doesn't help the pigeon-holing pundit
Unconventional, eccentric, epileptic
It's a symphony for the devil
The silver surfer is hard to discount
A bankroller who never hurt nobody
He knows home is where the hearth is
Where his rifled record collection is rearranged
You can't fool me blaine.
I've read the little red book
Yes, Love, love me do
Turn up with a clue
The electric shock treatment is taking effect
It's oh! So current
Amp fiddlers on the hoof
It's a microcosmic rough ride
And here come the jets
Like a bat out of hell
Someone gets in their way
Someone don't feel so well
A discordant discourse
Progressively rocking
Down a road to nowhere
You wanna take that ride?
Billy Bangs
Trying to solve the mystery