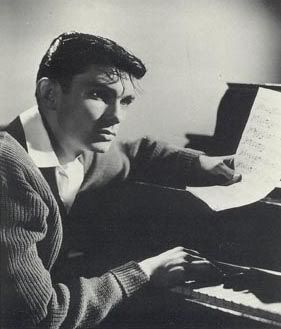 Gene Pitney - I'm Gonna Be Strong.mp3
Bigger in Rotherham than Rockville, and with a distinctive voice soaring like a kestral over the Quantocks is the eternal Gene Pitney. As popular as he became in his home country, Pitney has always been a more successful artist in the UK. Perhaps this had something to do with his early 60's publicist - Andrew Loog Oldham - who was doing the same for the Rolling Stones.
By the way, it always makes me laugh that 60's Britain loved pop songs about place names such as Tulsa, San Jose, Amarillo, Phoenix and the like. Most record-buying Brits had not left their own town, let alone their own shores. Few had a vague idea where Spain was - let alone America. Perhaps TV had heightened the baby-boomer's sense of escapism, romance, and exotic American adventure. "Indiana wants me" sang the Yorkshire coal miner on his descent to the centre of the earth.
This typically ambitious 1964 outing found Gene Pitney blending rock drama and pop smoothness with great success. 'I'm Gonna Be Strong' is an especially worthwhile entry in the Pitney canon because it's a typically intense Pitney heartbreak ballad that builds from quiet anguish to a dramatic declaration of self-reliance over a lush yet punchy instrumental backing. Oh yes siree! Other memorable tracks on the 'I'm Gonna Be Strong'
album
include: "Lips Were Redder On You," a lovelorn track penned by our favourite much-missed oddball pop auteur - Joe Meek. Hit single "That Girl Belongs to Yesterday" was an operatic pop ballad full of low brass and descending piano runs that was penned by stable-mates Keith Richards and Mick Jagger. Pitney shook the maracas on the Stones' recording of Buddy Holly's 'Not Fade Away', and tinkled piano in the background of other well-known songs. Mr Pitney had 16 top forty songs in the USA from 1961 to 1968, but had 40 such songs in the UK, all the way up to 1974.
The Cincinatti Kid became a 'chicken in a basket' cabaret merchant through much the 70s and 80s. (The purple velvet jacket, frilly-fronted shirt and polyester kipper tie took a pounding amidst the smoke-filled Variety Clubs of Britain). It famously took him no less than 28 years before the elusive UK No1 single came along - the re-working of 'Something's Gotten Hold Of My Heart' with a theatrical Marc Almond in '89.
The track featured here has been much covered over the years - perhaps most notably by Cyndi Lauper on her 90s album '12 Deadly Cyns ..' (She had earlier performed it with her band Blue Angel).
All these facts get a bit dull. ... Maybe I should go back to writing about social commentary or 'my first blow- job' and stuff?
Enjoy the song!