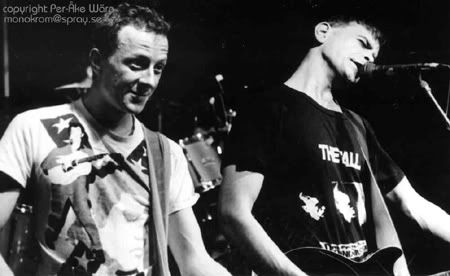 The Wedding Present - Everyone Thinks He Looks Daft.mp3
As we're banging on about first gigs here at the 'wife this week, let me take you back to the murky days of 1988...a time when 'indie' ruled the world...or so it seemed in the sixth-form smoker's room.
I'd been listening to
this band from Leeds
who some reckoned were gonna be the next Smiths, and it seemed plausible enough to us at the time...after all, they were Northern and working class, played guitars, had nostalgic record sleeves, and crucially, the singer had a great big chin. Actually, he looked a bit like Fred Flintstone, but that couldn't hurt, right?
And it turned out that they were playing my town! No-one played my town! The only venue was the Coatham Bowl, a place famous for formerly hosting National Darts Championships, where the likes of Jocky Wilson and Ewic Bwistow battled like dinosaurs on mountainpeaks, the lager was torrential, and the commentary waxed hysterical...
I secured the tickets, and played the Weddoes non-stop on my C-90...it was my first gig, and I was crackling with anticipation....Which songs would they play? Would we be able to see them properly? Would I be able to get served? Would my girlfriend swoon at his massive chin, and become a groupy, breaking my heart as they slashed and burned across the rock n roll wilderness? I hoped not, but maybe I could at least sell my story to the NME...
The Weddoes never quite became the next Smiths, but they did some wonderful and unexpected things...including recording a mini-album of punked-up Ukranian folk songs, working with Steve Albini, and releasing a single every month for (was it...?) two years.
Listening to them again, I'm reminded of how fresh and vital they were...maybe their return is imminent? Are they still around? Hope so...If not, I'll always have
George Best
to remind me
And the gig? It was fan-fookin-tastic! I got served real beer! Gedgey and the lads fairly shredded their fingers with their frantic cheese-grater guitar style, the kids went beserk and we all screamed for more. Get the fuck in!
My first bite of the cherry...In a matter of months another top-drawer act was to rock the Coatham...I snapped tickets up immediately...bring it on, Voice of the Beehive!