Things have been getting real quiet round The Wife's HQ recently...
what with
Iggy
moving house (waiting to get reconnected),
DVD
outa town/country (nice to see him finding his way to an internet cafe and leaving a suite of comments! the comments wouldn't be the same without you
old boy),
The Dr
OD-ing on his own supply and going awol on a month long Hunter S Thomson style white knuckle binge...
I
've been lost in a vast acoustic world of unkown artists that hide their talents in the
MySpace
directory (might post some stuff this week),
and today
De Fish
is absent as he embarks on his yearly marathon booze session to celebrate 30 years since he arrived on this crazy rock we call planet Earth.
it's 2:10 pm now, so no doubt he is well on the way to oblivion!
HAPPY BIRTHDAY dude!
This ones for you...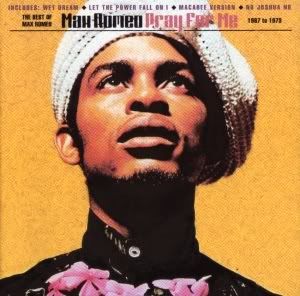 Chase The Devil - Max Romero.mp3
Lucifer son of the morning, I'm gonna chase you out of earth. Sampled by the prodigy "Outta Space" Max Romero's Chase The Devil is a real dandelion mash of uplifting lyrics with bouncing reggae beats. If any record has ever made you want to down a bottle of rum and dance like a possessed dwarf with your mum it's this one. Max's seaside vocals blend astonishingly well with the chilled out smooth beat, sending a warm glow through your entire body more fulfilling than ready-break the original get up and go.
(this track is featured on
this compilation
from juno records)
originally posted by Devilfish