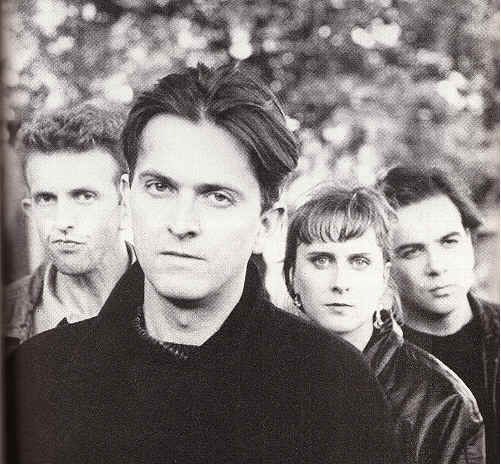 Prefab Sprout - Ghost Town Blues.mp3
Think I'll Pack It in and buy a VW,
Take It Down To Newquay....
Day 2 back at work- the post Cornwall holiday blues is lifting a little despite all the reminders of sun, surf and freedom as I drive in my sandy car to work. Bodyboards leaned up against the landlocked Leeds house cellar wall, straw hats that are probably gonna hang on the coat stand until next year and the sunburn that passes for a suntan on my pasty Irish skin still there, tho fading fast...
Forget all that guff about Jumping Frogs, that first Prefab album [
Swoon
] is great (or should that be "The Sprouts" as Emma Welles refers to them in her liner notes?). The second one [
Steve McQueen
] is good too although already a lot of the quirks had been ironed out. From where I was standing they seemed to get progressively more conservative throughout the 80's.. as I became less and less interested.
It was Dr Johnny that got me back on track by playing me Paddy McAloon's
I Trawl The Megahertz
last year. He happened to have a copy of Steve McQueen with him at the time and I had one of those experiences where you listen to an old favourite that you lost along the way and you are surprised to find that you still know every lyric and idiosyncrasy... right then I knew I had to get hold of Swoon again as it was always my favourite.
By coincidence a few days later I was visiting Clone4231 in Tyne And Wear. Whilst ambling round the North Shields metro Sunday morning market I noticed a cardboard box that had "Records £1" scribbled on the front... What do I see sitting in there, but a pristine gatefold copy of Swoon which I immediately snapped up.
Paddy McAloon has said that he hates it. He mentioned that he wished to withdraw all copies of Swoon, and re-record the whole thing. It's true that the production is not as "professional" as the other PS albums but for me that only adds to it's charms. If he ever did try to redo it I am sure it would lose all of it's quirks, and I would never swap my gatefold vinyl copy for any Swoon updated CD.
Here's a bonus track about Chess grandmaster Bobby Fischer for those who can be bothered to read the blurb and get down this far...
Prefab Sprout - Cue Fanfare.mp3
"some obsessions take me back... the sweet sweet songs that cloud your eyes..."