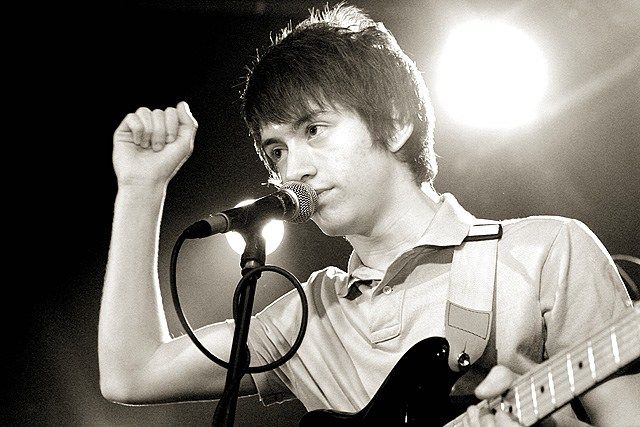 Arctic Monkeys - When The Sun Goes Down.mp3
(aka Scummy aka Scummy Man)
arctic monkeys, komedia, brighton, wednesday 24th aug 2005
Cards are straight on the table.
Jokers and aces and knaves and scoundrels.
Ducking and diving.
Screwing and skiving.
You gotta pick a pocket or two.
Girl you know it's true.
Headlights are on and the rabid rabbits are hopping.
Switched on and bopping.
Coz we're on the streets of Rotherham nah.
The north rises again.
And we're pulled along by the collar of our polo shirt.
Perrys are already a set to love up.
And boy do we love.
The droog alex.
Cajoler, ringmaster, straight talker, doe eyed bambi.
I spotted acne.
But he took it on the chin.
Despite the ridiculously low stage he was head and shoulders above the rest.
And despite the ridiculously youthful demeanour he was coming on a like a seasoned pro, you know?
Swaggering confidence and attitude.
He knew when to say sorry and when to be rude.
Mellifluous melees and moshing melanges.
But these weren't the good old days.
[Though that's where the roots were.]
A special soundclash jammin' in the name of a northern libertine.
What?
This was surreal komedia.
A club that couldn't cope.
With such devotion and emotion.
We looked good on the dancefloor.
The john cooper snap crackle and pop of a monkey man on top.
A nefarious lot.
They came, they stole, they conquered.
But the panic stricken security were the killjoy division.
Unable to cope with the waves.
They crashed about in the mayhem.
But we were waving not drowning.
We were singing.
We were winning.
Yeah, yeah, yeah!
Billy Bangs
Putting down the handbook