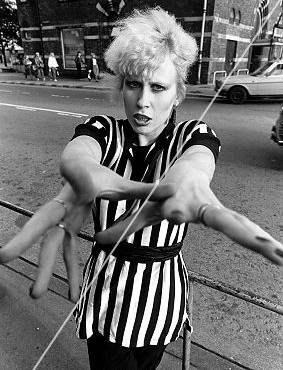 Hazel O'Connor - Will You?.mp3
As you know very well by now, here at
'Last Night ..
' we fell off the rock snob pedestal a long long time ago. A song has to
mean
something to us; and it's a bonus if it's any good!
And so to the song I recall whilst enjoying my first ...
blow-job!

I was fairly young and desperately naive recipient. (You know the one about thinking cunnilingus was an Irish airline, well to me, fellatio was a type of Italian pizza).
At the time, it didn't matter much to me that the slightly odd
Hazel O'Connor
couldn't sing very well. I did know however, that opportunity was knocking and I couldn't look a gift horse (or moose) in the mouth, or .. 'just politely .. say goodnight'.
The saxaphone solo in this is particularly apt. It's unfortunate that it lasted far longer than I did.
So, get your thinking caps on dear reader - I want you to play this at home. As music is the back-drop to our lives, tell us which song re-opens your
Oh What A Night
sluices? It could be your first (pardon the pun) full blown sexual experience, or drunken knee-trembler, or (if you're a little more shy, your first kiss. (On the bell-end or otherwise)).
Pulp, Bobby Goldsboro, The Sutherland Bros, and The Four Seasons all recall the first time - how about you? Go on, life's too short.
Let your mind wander back. Do you smile or wince at the memory? What was the soundtrack as you leapt from the wardrobe or fumbled in the shadows? Leave a deposit in the comments box.
Meanwhile, buy some Hazel O'Connor
here