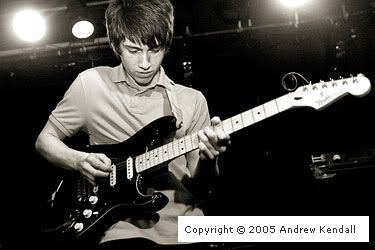 Arctic Monkeys - A Certain Romance.mp3
Got this mp3 from
The Sheriff
. The mp3 is quite crunchy, but it only adds to it's charm.
So the intro sounds like the opening track off the third Libertine's album, yeah and...
Arctic Monkeys
release their first single -Five Minutes With Arctic Monkeys- on their own Bang Bang label on Monday. You can hear/watch
Fake Tales of San Francisco
from it
here
. It's worth a look, it's got some good live footage.
The tour kicks off tomorrow in the band's hometown, at the Sheffield Boardwalk.
The bands
forum
is buzzing about the gigs, and the press are keen too. There are tales from a Boardwalk gig from the start of the year when the whole audience erupted into song, even though the band have yet to release anything. It's looking like this could be your last chance to see them up really close (most of the venues on the tour are small).
If you can't wait until Monday to spend Five Minutes With Arctic Monkeys, or are feeling particularly charitable, you can download the B-side
From The Ritz To The Rubble
from
Warchild
. You get to spend Two And A Half Minutes With Arctic Monkeys and 70p goes to help children in need... read
here
.
You can also buy all Five Minutes... off i tunes now.
...anyway, if Alex Turner can keep writing songs as good as
A Certain Romance
or
Scummy
, then those Libertines comparisons could soon be irrelevant.