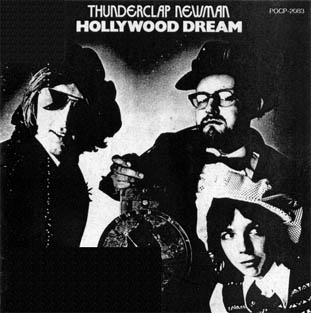 Thunderclap Newman - something in the air.mp3
This track, dear reader, has everything.
I'd not posted this song before, as I assumed (wrongly, as it turned out) that every man and his dog would already know it. And, as we at 'Last Night...' like to mine nuggets from the more shadowy goldmines, I had neglected it. It transpires that many folk (particularly those under 25) have not heard it. So, if music be the food of love, wrap your fat face 'round this banquet!
In the Summer of '69, not only did Mr B Adams get his first real 6-string, but an unknown and rather strange UK combo hit No1 with this fuck-me-sit-up-and-take-notice-debut of soaring optimism. The song's surreal vision, changing directions and barrelhouse piano grabbed the audience by the short and curlies. ... Cos the revolution was here!
Thunderclap Newman were originally formed as a side project by Pete Townshend of The Who as the sixties came to an end . They had one album,
Hollywood Dream
and this one major hit,
Something In The Air
which topped the UK charts and reached No37 in the US. They then broke up in 1970.
The odd-to-say-the-least original band consisted of top pianist Andy Newman, 16 year-old Jimmy McCulloch (who would later join Macca's post Beatles group Wings) and Speedy (John) Keen on vocals and drums. Keen had worked as Townshend's driver. The windmilling Who man not only produced this but saw himself as '4th band member'. Both McCulloch and Keen died young. This track has been pilfered, prodded and sampled by many over the years - particularly advert producers. The original still shines like a beacon.
Let us know what you think of this song. Don't just sit and listen dear friend. Post your comment NOW.
(
click here
to buy from AmazonUK)