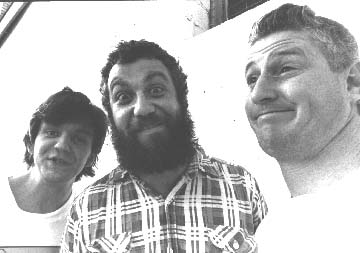 fIREHOSE - what gets heard.mp3
...or should that be
Watt Gets Heard
.
fIREHOSE formed when the Minutemen suddenly ceased to be after the death of singer/guitarist D Boon, who was killed in an accident on the way back from a gig in 1985.
Mike Watt
(bass/vox, beard) and George Hurley (drums, right) considered retiring from playing music until a Minutemen fan, Ed Crawford (guitar/vox, left) persuaded them to form fIREHOSE, another 3 piece.
Both Firehose and the Minutemen had a great punk attitude that leant more towards trashing the traditional music industry mechanisms rather than dumbing down and spitting a lot. Both bands hated the idea of the "rock star" and were a peoples band! yeah!
Mike Watt is still a punk rock hero to this day, embracing the internet as a means of getting his message out there. He maintains a
web site
that is crammed with info, pics, videos as well as links to his radio show "
the watt from pedro show
" (which due to popularity and bandwidth limitations is only available to access on the weekends).
He also publishes
diaries
from his travels (like from the European tour he did playing bass with Iggy and The Stooges). And there's many many interviews and press articles to read on there, i have only just begun to graze the surface myself.
This track is taken from Firehose's third album,
From Ohio
.
(
click here
to buy From Ohio from AmazonUK)