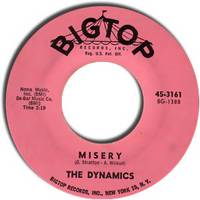 The Dynamics - misery.mp3
Things have been steadily growing as we have been quietly doing our thing here at Last Night for over 6 months now, and as we were approaching the
100 unique visitors per day
mark i had been thinking about posting seven days of "best of the archives" re-posts.
So when i checked the stats over the weekend and saw that not only had we hit the 100 mark, things had taken off and we were getting in excess of 250 visitors per day (thanks to the kind words from John at
The Tofu Hut
and Chryde at
La Blogotheque
), it seemed like the perfect time to do the
best of
series this week.
..and what better way to start than with the
first ever post
on Last Night.
Misery
is one of those classic northern soul tracks that is just so full of beans that once it gets under your skin just lifts your mood and will have you strutting along the pavement like something from a Tarantino movie.
It came out in 1963, produced by
Al Savage
for
Big Top
records, a label that will be familiar to many northern soul collectors. Although Big Top were a NYC label, most of the music came through Detroit's EmBee Productions, run by Irving Micahnik and Harry Balk. Their most famous artist was probably
Del Shannon
, who was the first person to chart in the US with a Lennon/McCartney song. He heard them perform
From Me To You
at a soundcheck at the Royal Albert Hall whilst on a trip to England and recorded a version as soon as he returned to the US!
The Dynamics were not quite as successful, never really gaining much recognition beyond Detroit, but those irrepressible yelping falsetto vocals in the chorus' never fail to get me out my chair, usually to get my leather souled (
sic
) shoes on for a bit of legwork on the talcum powder covered wooden kitchen floor.
(
click here
to buy on Big Top compilation CD at AmazonUK)