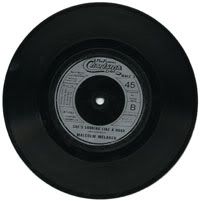 Malcom McLaren - she's looking like a hobo.mp3
today's Charity Shop 7 is the b-side of
Double Dutch
, the second single taken from Malcom Mclaren's debut album "
Duck Rock
". There's no denying that Malcom's chance meeting in NYC with a big black guy wearing a Never Mind The Bollocks T-shirt, who turned out to be Afrikka Bambaata, resulted months later in a huge change in popular culture in the UK. Not content to transform youth culture once with the Sex Pistols in '77, he did it again 6 years later with the single and the video for
Buffalo Gals
in 1982. (
She's Looking Like A Hobo
was also released on the 12"of Buffalo Gals). Wigan Pier DJ Greg Wilson has written a fantastic piece about the effects that the early Electro-Funk releases had on him and those around him,
click here
to read.
Produced by
Trevor Horn
(in between producing Dollar records and joining/producing Canadian prog rockers Yes) who took a lot of the core ideas from the Duck Rock project when he formed the
Art Of Noise
the following year. One technique he used when recording was to take the world music elements that Mclaren had given him, cut acetates from them and then have The World's Famous Supreme Team "scratch" them together over a solitary drum machine. Herbie Hancock later claimed that he included scratching on "
Rockit
" after hearing Buffalo Gals.
Of course as with any Mclaren project, he is inclined to re-invent history with all the focus on himself as the sole genius and others contributions are often forgotten, but Trevor Horn's and The World Famous Supreme Team's achievemnets here are equally as important as Mclaren's, who couldn't have realized his vision without them.
(
click here
to buy Duck Rock from Amazon UK)