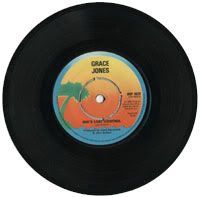 Grace Jones - she's lost control.mp3
The 7" format wasn't long enough to fit the full version of
Grace Jones
cover/re-invention of
Joy Division
's
She's Lost Control
prev
, on which all the "she's lost control"'s
are changed to
"I've lost control", she threatens to "stab you in the hand" and finally ends up screaming as she.. erm,... loses control. sheesh!..seems like
Russel Harty
got off lightly. The 7" fades before things get too crazy.
Todays CharityShop7 may be a joke without a punchline but, if like me you find your ear being drawn to
Wally Badarou
's exquisite synth burbles and squelches (not to mention Sly and Robbie holding it down on bass and drums), it is a puchline that i can live without.
The recordings that Grace Jones made at Chris Blackwell's
Compass Point
studios in Nassau, Bahamas [1980-86] are her best, and are the point when her music became as strong as her personality, and thats saying something! There is a 2 CD release
Private Life: The Compass Point Sessions
that covers the best of the three albums recorded in Nassau which includes long versions and unreleased dubs of a lot of the tracks. Essential listening.
(
click here
to buy
Private Life
from Amazon UK)