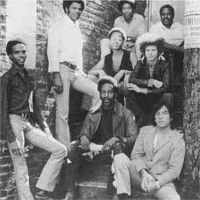 Eric Burdon & War - magic mountain.mp3
In 1969 Eric Burdon had already been through two groups of Animals and one solo project backed by the Horace Ott orchestra when he came across a group in LA called The Night Shift who were playing a rhythm led mix of blues and funk. They joined forces and changed the band's name to War.
They only stayed together for a couple of years, releasing 2 albums.
Magic Mountain
was recorded during sessions for their debut,
Eric Burdon declares WAR
[1970]
.
It never made it onto the album, but was released as the b side of world wide hit
Spill The Wine
off the same album
.
It was also included on
Love Is All Around
, a CD of out-takes and live stuff which was released in '76.
You will probably recognize those lazy sax's in the intro as it was sampled by De La Soul on
3 Feet High And Rising
.
(
click here
to buy
The Best of Eric Burdon & War
from AmazonUK)