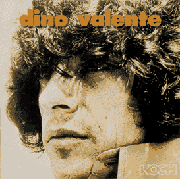 Dino Valente - something new.mp3
(9.9Mb)
Richard Ashcroft (of The Verve) always reminded me of a young Dino Valente, especially when he was the "
Mad Richard
" who walked to London (from Wigan!) without shoes or socks to seek his fortune as a singer/songwriter. That absolute drive to tap into another dimension and be everything to everyone in an instant with the most powerful songs ever written who wasn't going to let anything stand in his way.
Dino arrived in NYC in the late 50's aged 17 and was unable to find a space on the coffeehouse stages of Greenwich Village on his first night in town, but he didn't let that stop him. He simply walked into the park and started singing. But by 2am he realized his stage debut was about to pass him by as places were beginning to close. So he walks into a coffeehouse and demands that they let him play whilst they were closing...
He didn't leave the stage until 2pm the next day.
He recorded hardly any material between then and 1968, having various problems with record labels as he demanded "total artistic freedom". Not exactly how the music industry functioned in 62-63.
When playing live he always stuck to playing small intimate venues, his performances were so passionate and animated that he could be quite intimidating. He would have to be surrounded by about 6 microphones as he would jerk his head violently from side to side, giving everything he had to get his message across. Exhilarating stuff which left audiences so impressed they would often follow him on to a further impromptu performance elsewhere after the show, where he would play all night long.
He was responsible for writing the Youngbloods big hit "Get Together" (which Jefferson Airplane also covered on their debut album), but didn't receive royalties as he had sold the rights to raise money for his legal defense in 67, which resulted in him leaving Folsom Prison after only 9 months of a one-to-ten year sentence for repeated drug offences. Part of his parole depended on his new deal with Epic to record the self-titled solo album that
Something New
is taken from. It was produced by Bob Johnston (most famous for overseeing much of Bob Dylan's classic '60s output) and features little more than him with his 12 string, singing love songs so direct and heartfelt that they sounds epic, giving him all the space he needed to indulge his yearning and intoxicating vocals...
(
click here
to buy Dino Valente from CherryRed.co.uk)