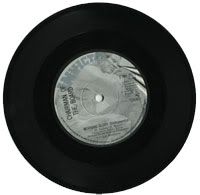 Chairman Of The Board - morning glory (instrumental).mp3
I finally got round to recording some mp3's from vinyl into my mp3 player over the weekend so i am going to post 7 days of charity shop 7s this week. These have all been picked up for an average cost of somewhere around 30p. Sounds cheap? But there are plenty of obstacles when charity shop record shopping, namely about 763 Max Bygraves albums and 417 Do They Know It's Christmas's.
When
Holland Dozier Holland
left Motown acrimoniously in 1969 they set up two labels,
Invictus
and
Hot Wax
.
The Number One Songs In Heaven
blog posted a Honey Cone track last week who were a Supremes-like vocal trio signed by HDH to Hot Wax, it's worth
checking out
...
Chairman of the Board
were signed to other label, Invictus and released four albums between '69 and '74.
Morning Glory (instrumental)
is the b-side of Everybody Party All Night, the second single to be released from ChOTB's 4th and final album "
Skin I'm In
" [1974]. The album title is lifted from a Sly and the Family Stone track (from Fresh) and the a-side tries to do a "dance to the music" call to arms (There is also a cover of Sly's Life and Death on the album). "Everybody..." kicks off with the obligatory Shaft wah-wah guitar scratches over a 4 to the floor kick drum, it sounds promising at first but fails to deliver as it never really manages to get airborne. Not surprising when you read General Johnson's web page. He says that he had lost faith in the music industry at that time and walked away for a while after this album claiming
"business disagreements deteriorated our musical relationship
".
Much more interesting is this, the b-side. The album features
Funkadelic
's Eddie Hazel guesting on guitar, and although he isn't on this track we do get Bernie Worrell on hammond organ instead. After an intro of distorted bass, smothered in reverb, he glides into the groove
...
but it isn't long before the track gets flooded with lush mellotron flutes and strings which gives it a breezy pastoral feel. The drummer pays homage by underpinning it all with his impeccable
I Bet You
prev
slouch groove.
(
click here
to buy Skin I'm In from Amazon UK)